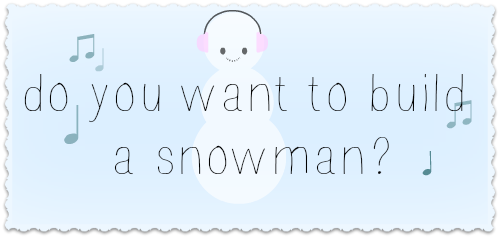 Do you have any idea how many times a day that lyric repeats itself in my brain?
I know someone who does & according to her, when she introduces herself to complete strangers mind you, SHE "is the REAL Elsa!"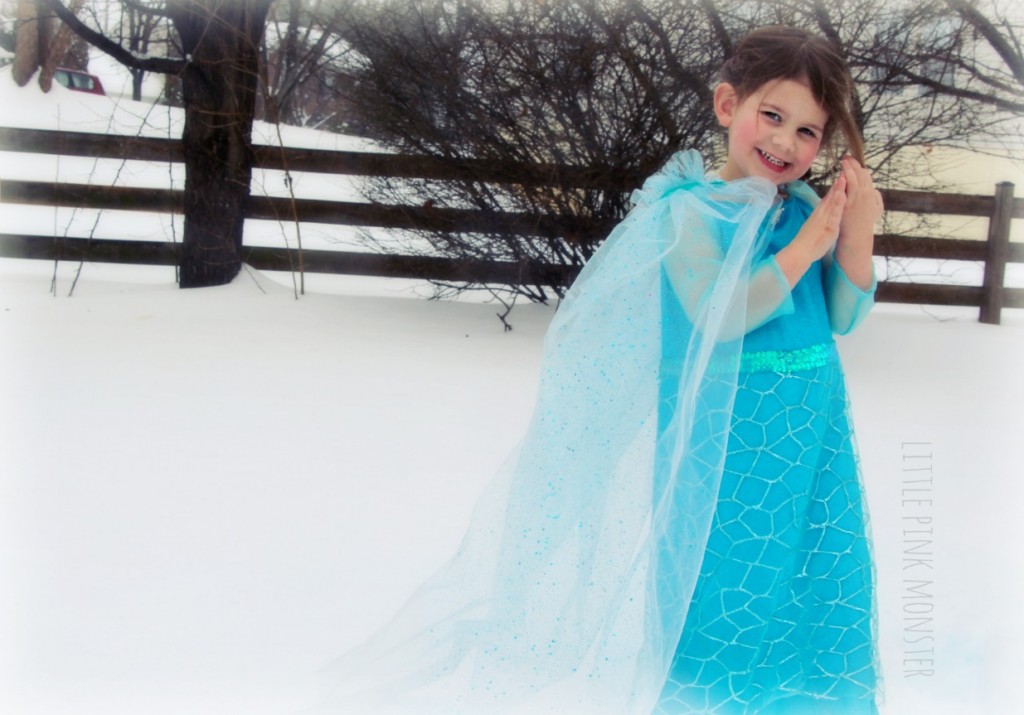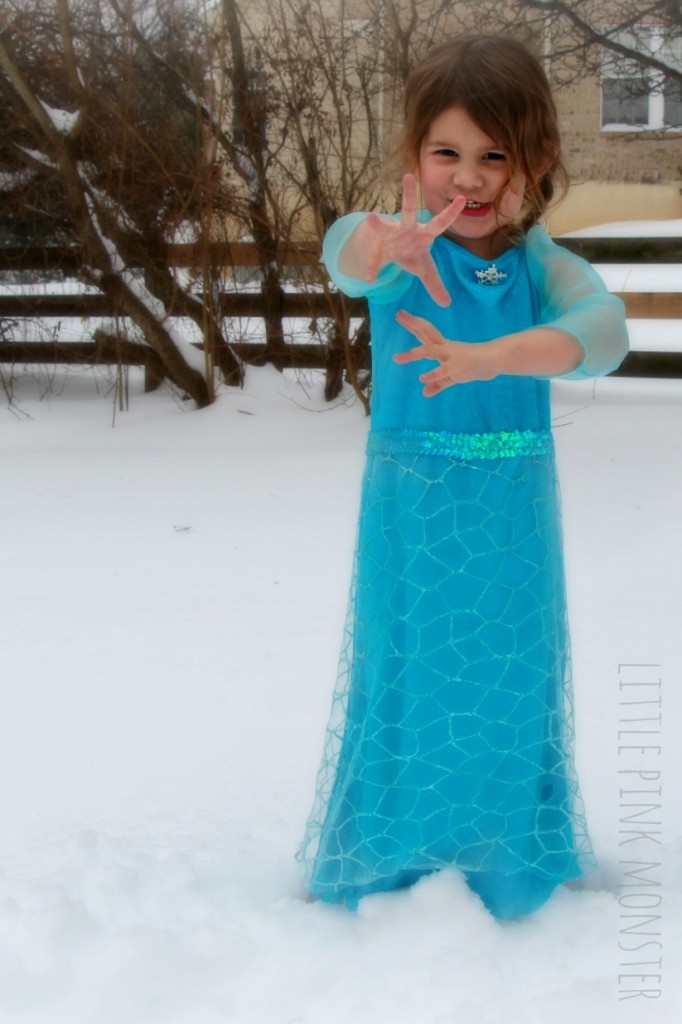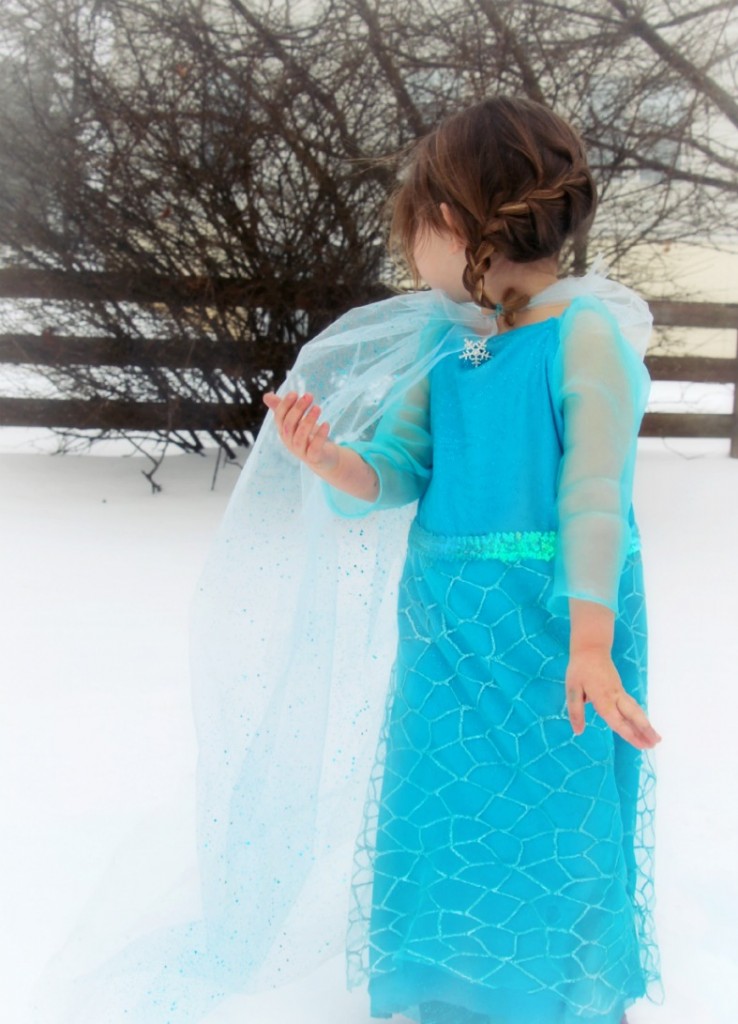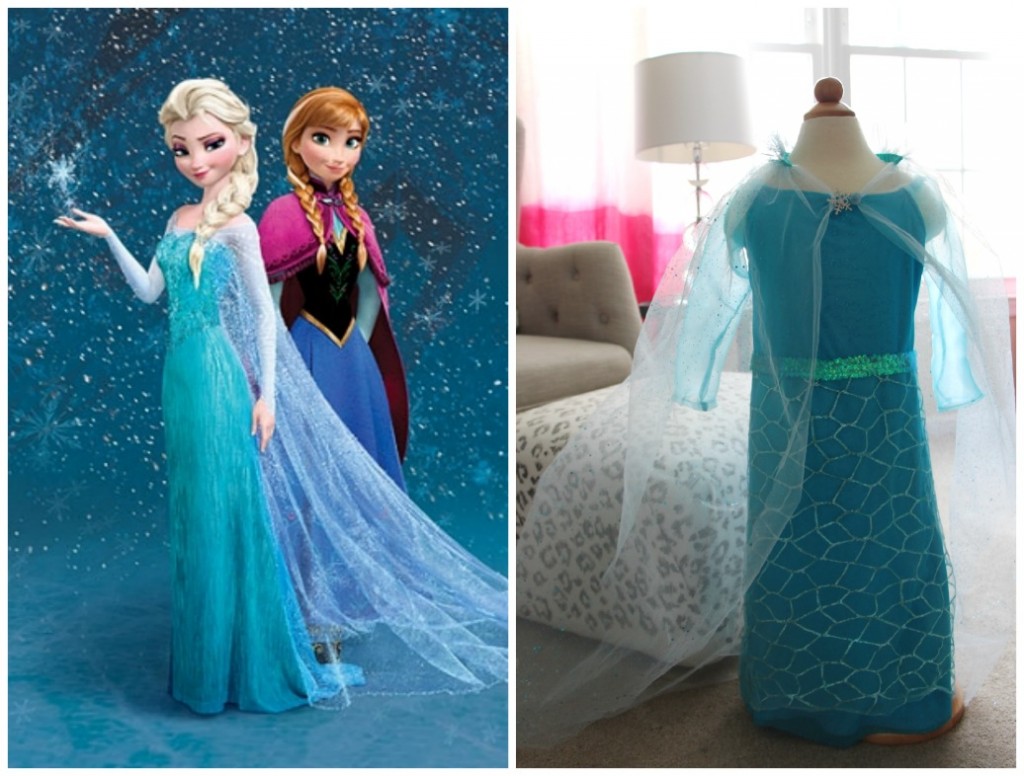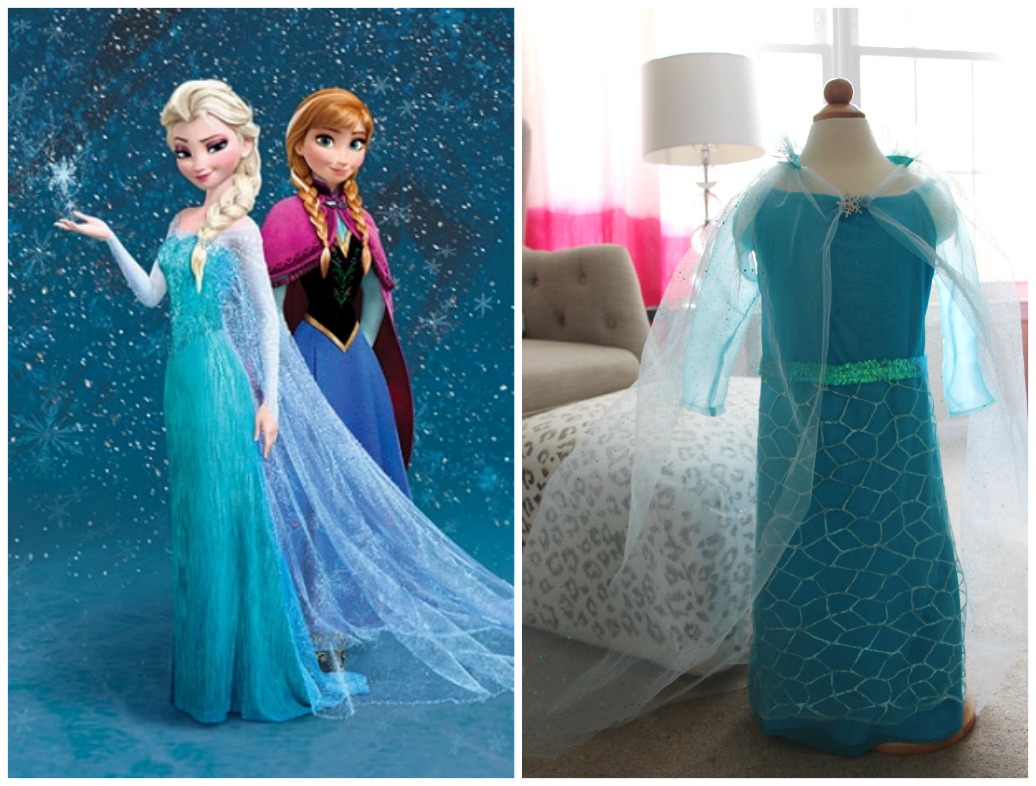 Let me preface this tutorial by saying that when it comes to posting the directions for dresses that I make for my girls it can be a bit tricky. The problem is, I totally wing it. I'm one of those people who wakes up in the middle of the night with crazy ideas, I picture exactly how I want to create something in my head & then figure it out as I go. The problem is then when I try & regurgitate what I did in an instructional form such as this, well, it can get a little confusing for those of you who actually have some legit seamstress street cred. However, I will do my best to walk you the crazy creative process my brain takes.
Elsa's dress in the movie is incredibly gorgeous, quite possibly the best Disney princess dress yet, but not in your typical poofy princess kind of way, it's slinky & sassy. When she walks it gives her a bit of a Jessica Rabbit feel. Translating that look for a three year old without going total honey boo boo could be tricky but I decided the best way was to go for an a-line, somewhat empire waste style.
For pattern inspiration I dug through our dress up stash & ended up using the girl's old mermaid costume. By turning it inside out I was able to see the seams clearer & therefore eyeball what shapes I needed to cut out for the skirt & the bodice. *Tip* The finished bodice gets it's shape from some thin elastic that runs across the top, to know what the bodice shape is un-stretched I pulled it taut & actually pinned it to my livingroom rug with some stickpins. We're all pro around here.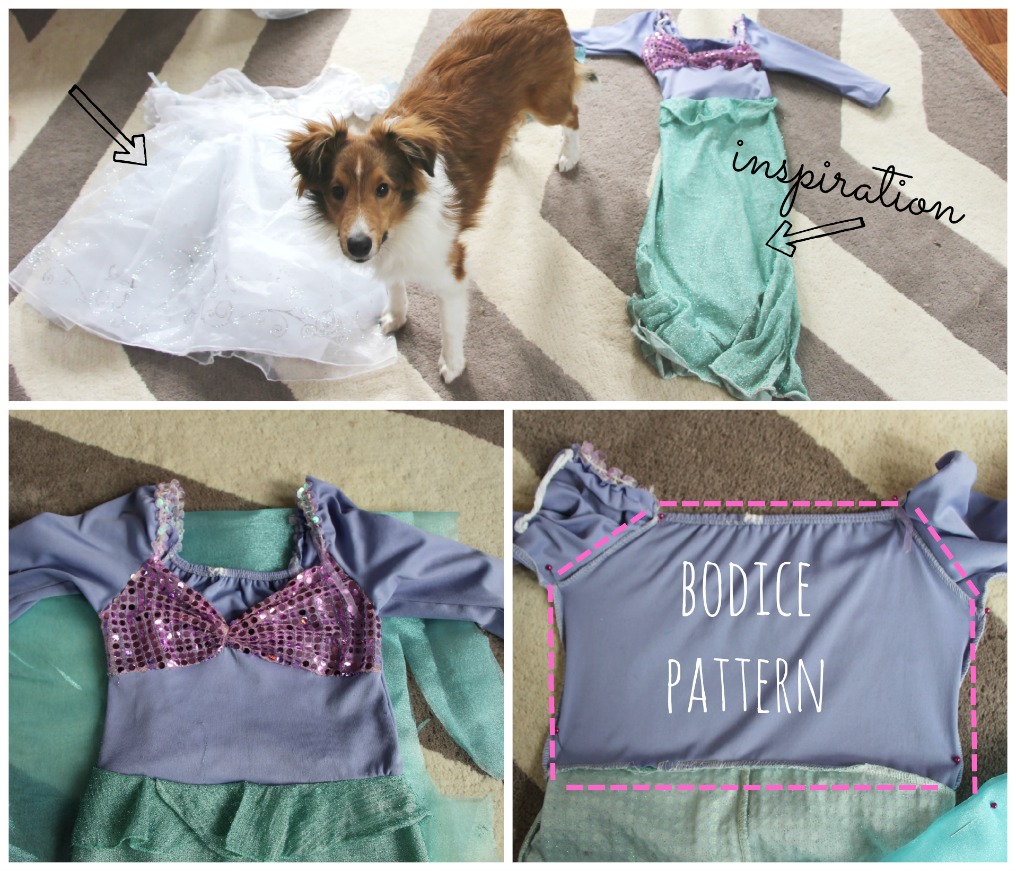 You're going to need two of the bodice pieces (one front & one back) from each piece of fabric. In my dress I used a soft baby blue knit for the lining & a sparkling lycra blend for the outside. Since this dress has no closings (zipper, buttons, velcro…) it's important that it can stretch over little heads. If you tug on your fabric you'll notice it stretches in one direction more than the other, make sure when you're cutting your pieces that it stretches horizontally. If you're not sure what I mean by this just test out a piece of clothing you own & you'll see. Often with dresses the front & back bodice pieces are the same size except the front piece has a neckline that dips lower, that's no so with my dress  because the back is somewhat low as well but differentiating them might be something you want to consider for yours.
Now it's time to cut, just go slow, try not cut your inspiration dress unless you don't want it anymore, & be sure to give yourself 1/2″ seam allowance on all sides. If you're super nervous you can mark out your cut lines first with a disappearing ink pen. For my dress which has a lining & outer piece I ended up cutting out 4 bodice pieces in total.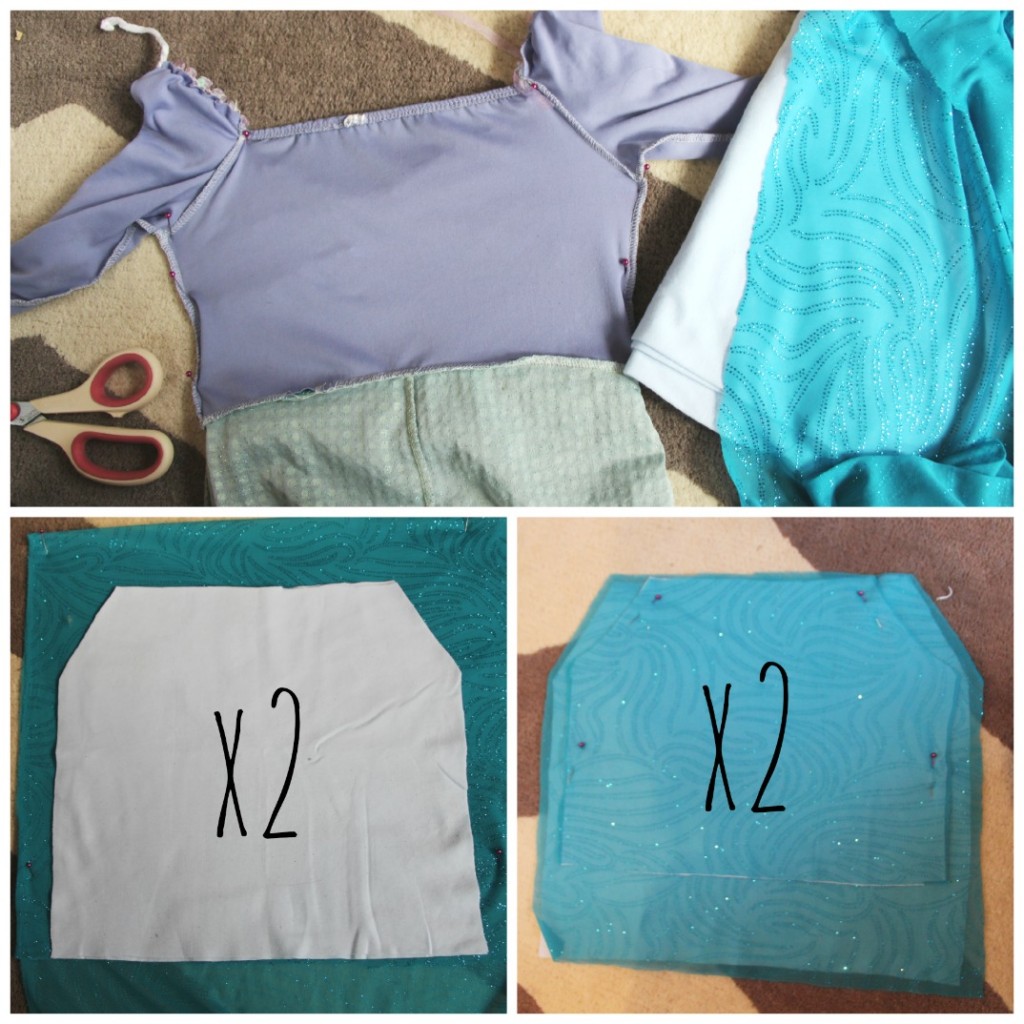 I like to cut all of my pieces at once so next let's get those sleeves out of the way. Sometime sleeves can be tricky because you have to line up the armhole size/slant along with the curve where the sleeve attaches but since this dress doesn't connect at the shoulders, it's more like a peasant top, this isn't so much of an issue. I followed the same process as with the bodice…Trace, cut, repeat for second sleeve. The only difference with the sleeves is you're not going to be cutting along the the fold line.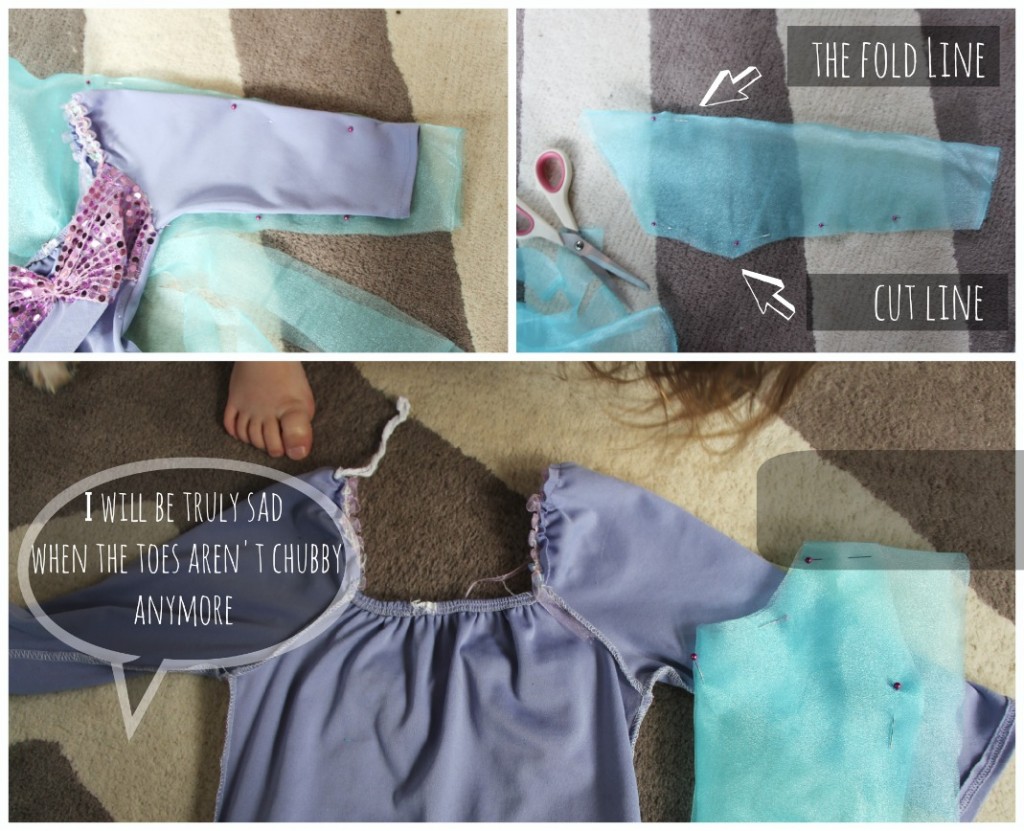 The mermaid skirt has 3 pieces which I've actually never done before when making skirts but am going to try this time since I know the mermaid costume wears well. Separating the back half of the skirt portion into two pieces that are then sewn back to together might seem a little, well, dumb but I believe it gives the wearer a bit more wiggle room verses if you just sewed a front & back piece. (please comment if you know otherwise!) Once again I used the inside out costume as my guide & cut the pieces out with an extra 1/2″ for seam allowance. I also took a little artistic liberty & cut more of an A-line down the outside line verses the flared mermaid tail. I got a little crazy with the skirt fabric, it has three layers. Yup, THREE. The baby blue knit lining, the royal blue shimmery lycra-ish fabric & now this amazing netting I found at JoAnn's that has an aqua glitter design that reminds me of the "frozen fractals" on her dress. (if you listen to the Frozen soundtrack in your car like me than you too will have added 'fractals' to your vocabulary. You'll also hear it in your dreams and at the grocery store and in the shower. It's ok though, BEST SOUNDTRACK EVER) Ok, back to the dress! Another point, the netting doesn't stretch so keep in mind that the skirt has to be roomy enough to walk, the adding of width towards the bottom (when we negated the fishtail shape) takes care of that problem.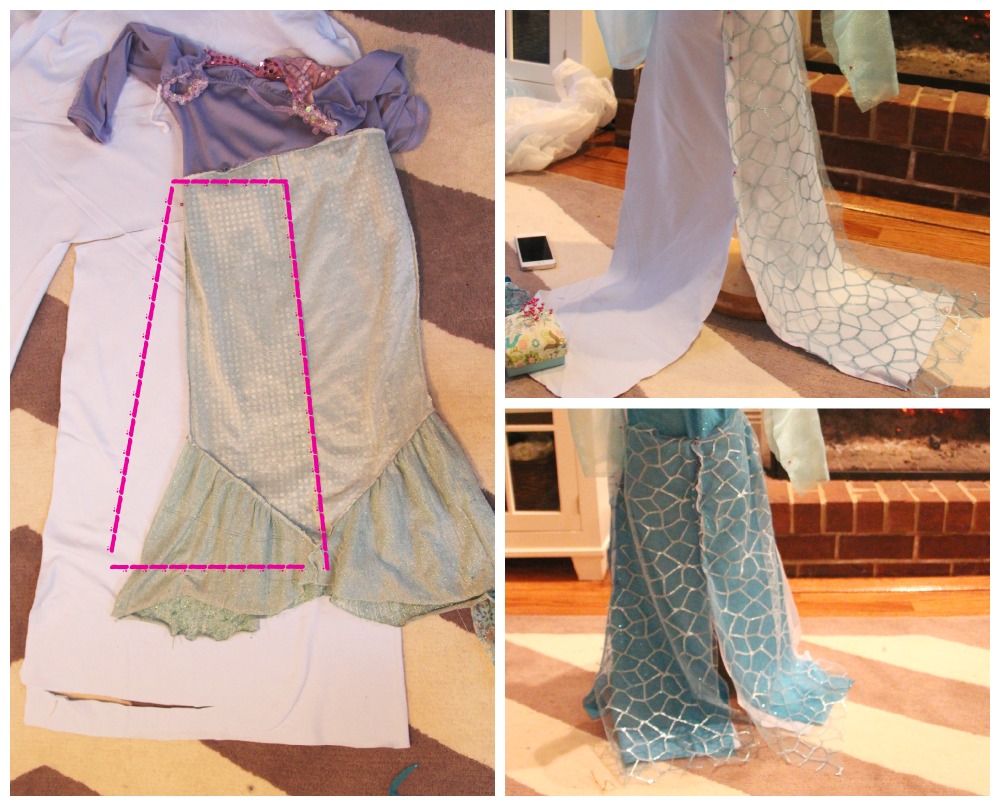 At this point if you're using the same amount of layers as I am you should have 2 front bodice pieces, 2 back bodice pieces, 3 left back half skirt pieces, 3 right half back skirt pieces, 3 full front skirt pieces & two sleeves. Whew! I really need to do this in a video format next time, explaining in writing is so hard! Would you guys like that better?
Ok, time to assemble! This will be easier than you think. First I attached the the lining & back bodice pieces to one other with a running stitch just along the very edge to hold them together. I only did this to make life easier & avoid fabric slipping, you don't have to but I recommend it. Now it's time to attach some sleeves, open the sleeves up (remember how you cut them on the fold?) & pin where the armholes meet up with the fabric. (right sides together!) Stitch in place. *tip* if you need help sewing your first dress with sleeves this is a great pattern & helped me a lot when I was first learning!
Next you're going to fold the two bodice pieces together (right sides together) & you're going to stitch from the bottom of the bodice, up to the armpit & down the bottom of the sleeve. Repeat on the other side. Now when you turn you're bodice right side out it should be a nice little top! One more step & then we're on to the skirt. You'll need to sew a thin casing that runs from where the sleeve meets the front bodice on each side. Only the sleeves & back will have a casing, although when you get to the front bodice area keep stitching so it's hemmed, it just doesn't have to be as wide as the casing is for the rest of the top edges. I chose to nix the casing in the front because I wanted the front of the dress to lay flat, some elastic is needed around the top however to keep the darn thing on! Since we're avoiding zippers & all. Hopefully the picture below will help. The pink arrows are where the casing begins & ends. I wasn't sure how much elastic I'd need (I think my elastic was 1/4″ thick & the casing was 1/2″ thick) so I stitched it down where one of the pink arrows is, made a little hole in the casing, attached a small safety pin to the end of the casing & then fed it through all the way to the other side. I pulled on it until I was happy with how snug it was. This is where having a dress form can come in really handy, I bought mine on ebay. Once I was happy with the fit I stitched down both where the elastic in the casing ended & also where it began. (noted by the pink arrows) The final step for the bodice is a little pulled in pleat in the middle (the black arrow) & then I attached Sophie's favorite part of the entire dress, the crystal snowflake button, right in the center. (I found it in the button section at JoAnn's)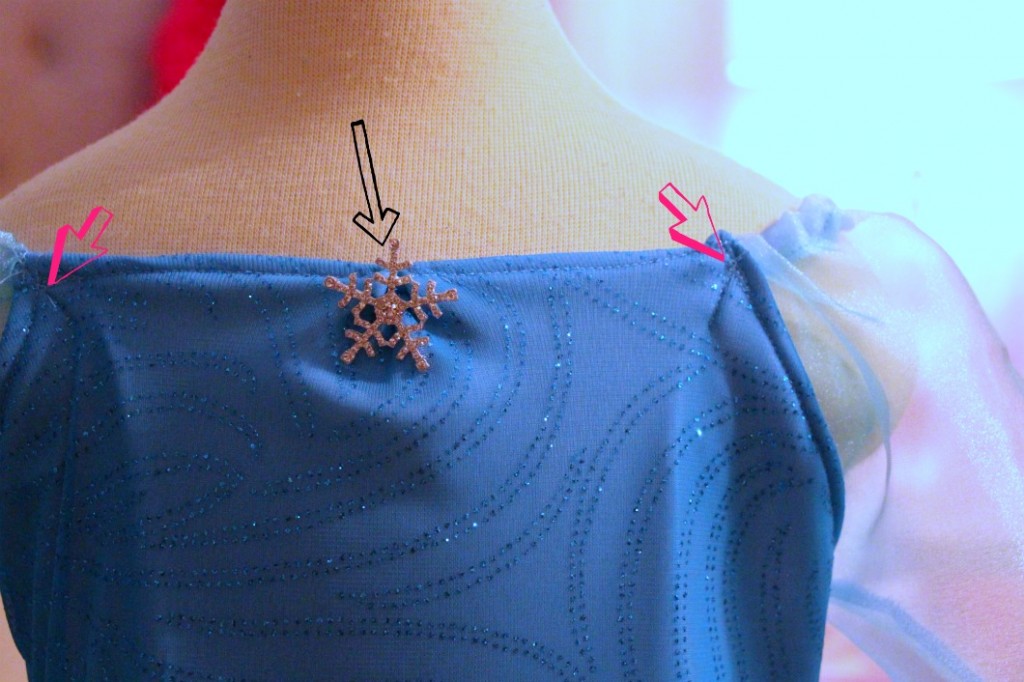 Skirt assembly time! This part will be much faster! All you have to do are three things…
1) With the right sides together stitch shut the two back pieces
2) With right sides together then stitch the 'new' back piece to the front piece
3) Attach the skirt to the bodice by turning the skirt inside out & putting the bodice right side out inside of the skirt, then sew around the seam. Was that not the most confusing sentence ever?? I don't have a picture of this with the Elsa dress but I did have one from when I used the same technique to attach a ruffle bottom to The Gameday Dress I did last year. Hopefully this visual helps…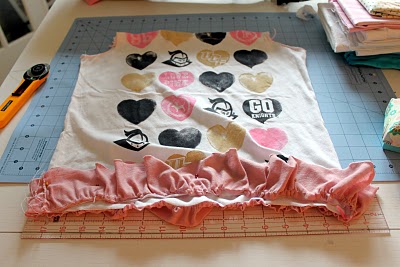 For whatever reason Sophie specifically asked that Elsa have a belt. She's REALLY into belts lately. Luckily for her mommy has a giant stash of the most random craft leftovers & this icey colored sequin trim was in there! I simply stitched it around the dress right on top of the bodice/skirt seam. (this one looks like it might be pretty similar, mine is elastic too)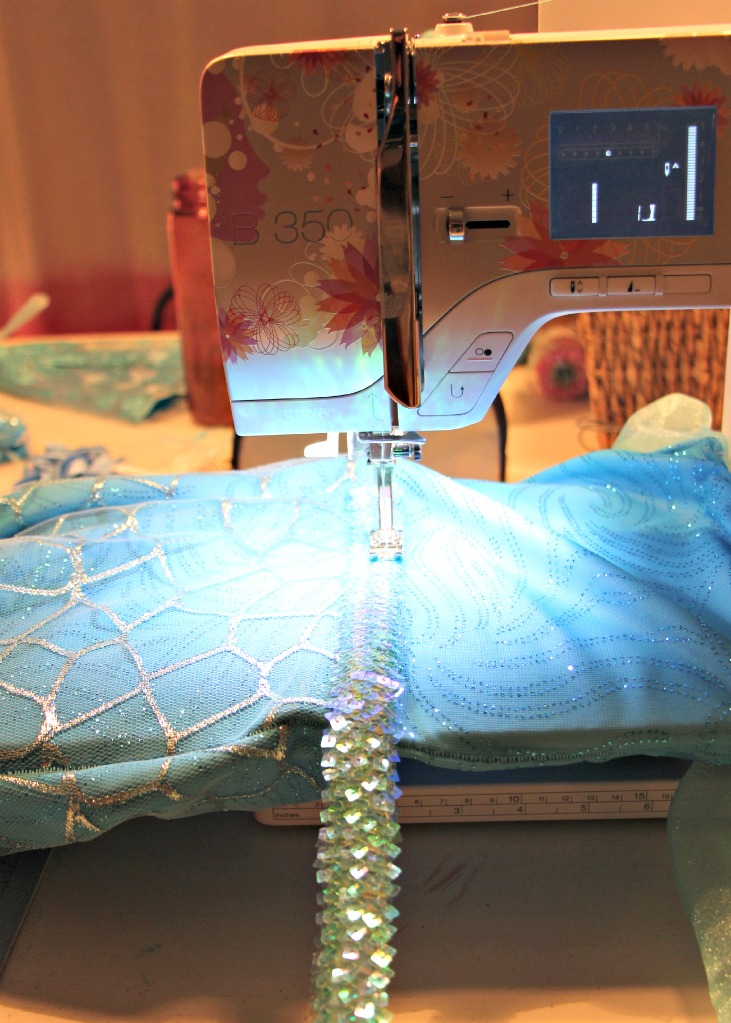 The last piece of the costume is Elsa's cape. I was pretty torn about this one. If you look at her dress in the movie she has this magnificent flowing sheer fabric that drapes behind her, I thought it was a cape but up close you can see it's actually attached under her arms. Hmm, peculiar.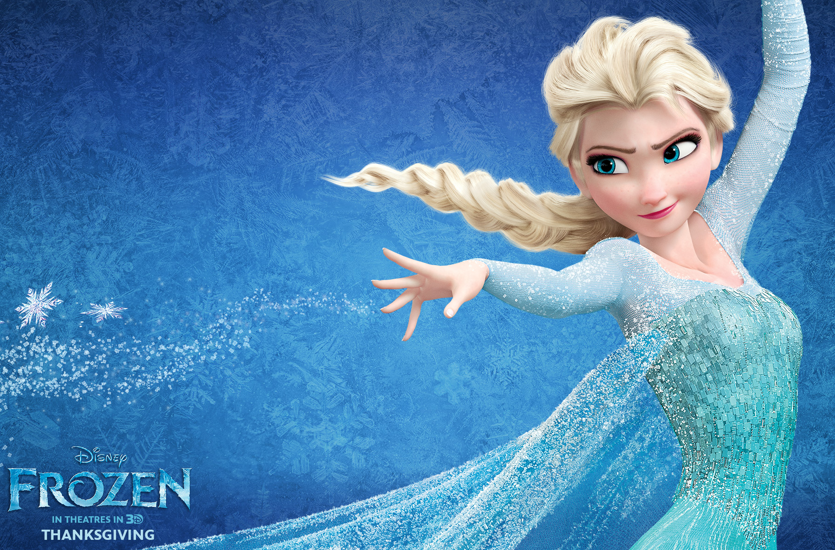 Beautiful but kind of awkward for real life, right? I know Sophie, when she gets a dress she loves she wants to wear it EVERY SINGLE DAY for weeks on end. Including to the grocery store or anywhere else we might be venturing to, an attached train was not going to work. Can you imagine trying to buckle that mess into a carseat? So I opted for a removable cape. Once again I got seriously lucky with the selection at my JoAnn's because they had the most amazing netting that had blue sparkle dots randomly sprinkled all over it. All I did was pin it to the dress form, spread it out until it looked good & cut the length with a nice semi-circle edge.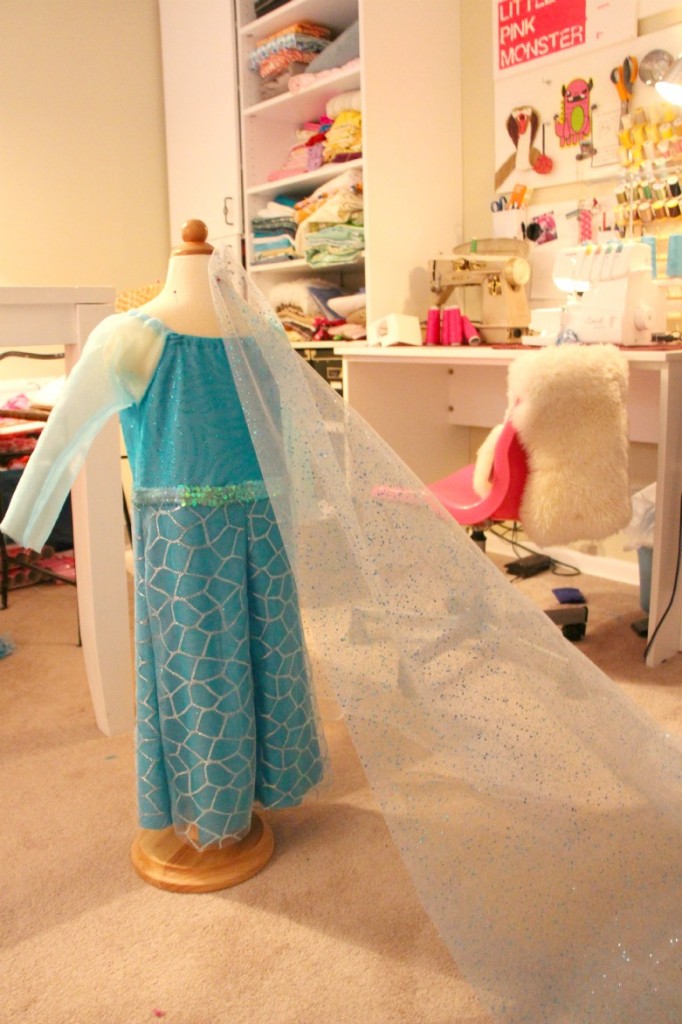 I gathered up the top of the cape by hand & then stitched it into place. Come to think of it the gathering & trimming is very similar to the floral wedding veil Sam & I made together. (LOL, the first picture on that link still cracks me up every.single.time.) For a little formality & to cover my less than perfect stitching (by this point I just wanted to go to bed) I stitched on some lovely ice blue velvet ribbon to both the inside & outside of the gathered seam, I love how the doubled up ribbon really gave it a collar shape! The closure is simply a stitched on loop of elastic & a pretty blue button.
That's it! Now all you need is a little girl who was born with a weird curse that could potentially kill her sister or just give her really cool highlights. Thank goodness for troll kisses!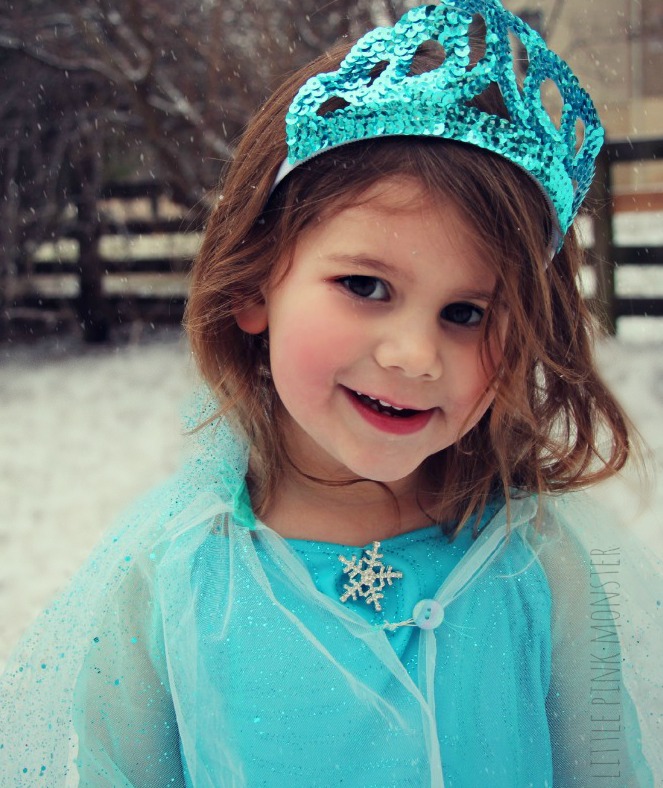 UPDATE: I'm glad I didn't spend too much time on the cape because the kid never wears it. The elder on the other hand was more than happy to step in…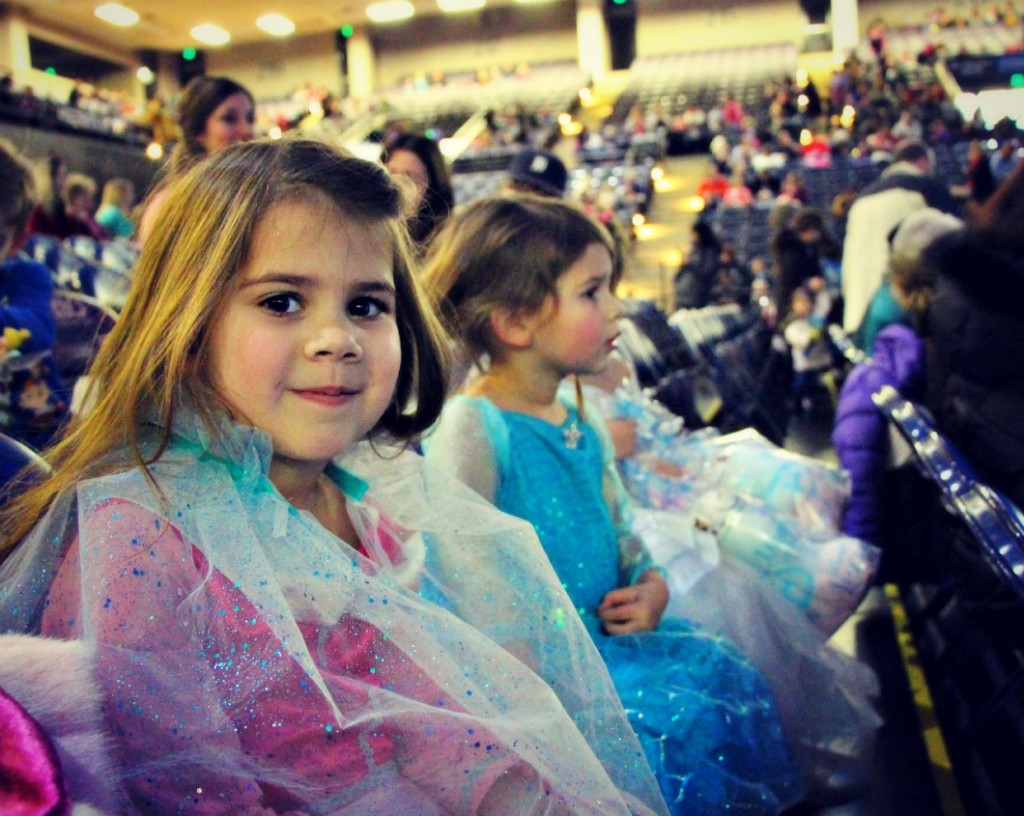 (Disney on Ice last weekend)
There you go my friends! Elsa from Frozen, I'm sorry it took so long to get up, even though it came together quickly this was quite the project to write about!
If you love this want to see something truly amazing, while I was googling for inspiration I found this girl's blog who sews magnificent costumes for cosplay, take a look at what she made for herself!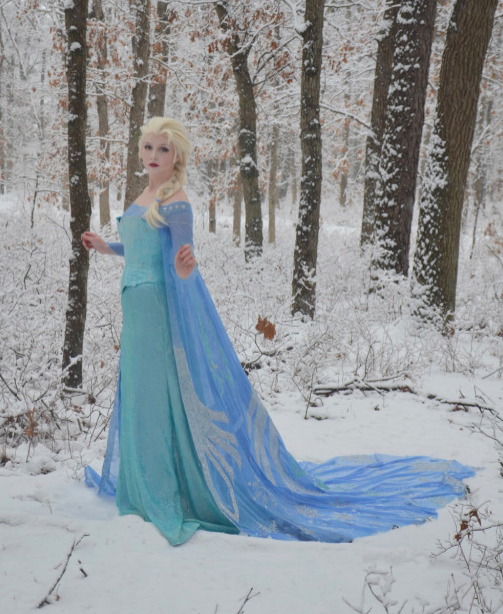 (img via http://doxiequeen1.wordpress.com/)
STUNNING! Take the time to look, I believe she hand placed something crazy like 60,000 itty bitty swarovski crystals onto the snowflake cape! Can you imagine?! HA! Can you remember having time like that???
If you have a second please share my Elsa post with one of the buttons below, that's my new social media bar. Sounds like somewhere I could get a fruity cocktail doesn't it?