That's what I call what I've been lately in the morning…"Mean Mommy"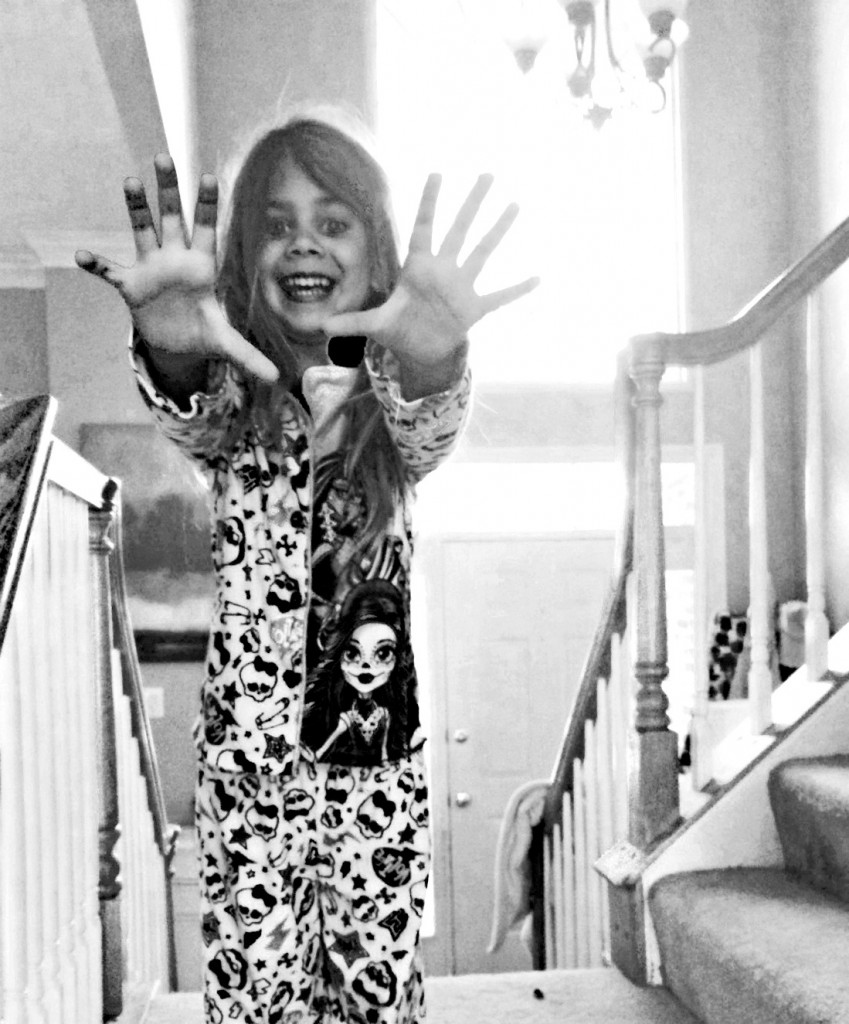 I don't wake up that way. Although your alarm clock being a 6 year old who's internal clock is permanently set to 7:00AM on the dot who then decides to wake you up not with hugs, snuggles & whispered "wake upppp…" but instead chooses physically pulling your eyelids open & saying "C'MON MOM! TIME TO GET UP!!". Or her new trick is a clever one indeed, we keep Sheldon in our bathroom overnight with a baby gate on the doorway, she'll go to gate & call for him, waking him & riling him up "C'MON BOY! Want to go out?! Huh?! HUH?!" which of course solicits incessant dog barking from a very full bladder filled puppy that I know only gives me a limited window to get him to the backyard before my morning chores will also include cleaning the floors. SO I usually go from dreams of Ryan Gosling my dear sweet, handsome husband to wide awake & trying to bolt down the stairs. Oh & did I mention that there is usually a 3 year old who has crept her way into our bed during the night & curled up into the perfect 'little c' shape next to me & she does not feel the urgent need to go downstairs, she wants to wake up slowly, like normal people ((hand in the air waving wildly)) do. So in the midst of the barking & begging,  she starts crying that her snuggle buddy has jumped out of bed & before I can get to the stairs she'll cry from the bed "Carrrry Meeeeee!" & I'll swoop her onto my back like a baby sloth, all the while I'm timing in my head how much longer I have until the pup who's already made it to the back door bladder explodes. ((TICK TOCK TICK TOCK POP GOES THE BLADDER CLOCK))
I feel fairly confident that I could stop here & have most of you uttering, "Amen Sister!" but that's actually not what tips me into the dark side. Once we get downstairs the girls grab their cups (a sippy cup of yogurt & milk that either P or myself make the night before & having waiting on the bottom shelf of the fridge) & head to the couch to watch their ipads for a short while. I do actually get a chance to have a cup of hot coffee, sit down, & watch a bit of the Today Show. It gives me a chance to wake up & is quite nice…until it isn't.
Here's where things go bad…
I tell the girls it's time to go upstairs & get dressed. They whine & complain, "just one more minute! I didn't even get to see the fluffy kitty get into the spaceship yet!" ((note to self: check to see what are those kids actually watching online anyway)) After 2 or 3 "I mean it!" sent their way they begrudgingly make their way up the stairs. After that every single movement that gets us towards leaving the house is a battle. Somehow that perky, bouncy 6 year old now turns into a limp piece of spaghetti when I'm trying to help her get dressed. Have you ever dressed spaghetti? It is not fun. Of course as soon as I get one dressed & turn towards girl#2 the first will dive into her bed. "No! Do not get back in bed, go brush your teeth! Seriously, c'mon! Please?"
Every single little thing takes effort…
Shirt over head, fixing pants that have been put on backwards, sending them to brush hair & teeth, having to go back & brush hair & teeth because as I'm trying to dress myself in my morning clothes (these are clothes that closely resemble & sometimes even include a piece of the pajamas I was previously wearing. Morning clothes will soon be swapped out for presentable attire & will be hopefully hidden from anyone who might know my name until kid morning dropoff is complete) I see this:
'Little one who's supposed to be "brushing teeth" is actually just creating large amounts of foam in her mouth & growling at the mirror like a rabid dog while 'big one' who is supposed to be brushing her hair, hair which she refuses to let us cut & is coming dangerously close to dreadlocks, is actually just passing the hairbrush through the air that hovers just over her actual hair. I give a deep sigh & look over at the bedroom cablebox to see that we were supposed to be in the car 5 minutes…ago.
THAT is when 'Mean Mommy' takes over all of my awareness. Now, let me clarify, I'm not talking about head spinning, corporal punishment type of parenting but Mean Mommy is someone I hate becoming & don't want to be a daily part of my girl's childhoods. She raises her voice, "PUT ON YOUR SHOES! SERIOUSLY, THIS IS THE LAST TIME I'M GOING TO TELL YOU TO STOP DOING THAT & PUT ON THOSE DARN SHOES BEFORE I TAKE ALL OF YOUR DOLLS AWAY! FOREVER! Mean Mommy is forceful, anxious & begins both her & her children's day off with a less than loving start.
I've often thought that if I woke up earlier, before the kids, & started my day with some quiet time & peace I'd be better equipped to handle the chaos of the morning but the truth is I love my bed. I love being in my bed & it truly takes an army, or a least a pee filled dog & very loud little girl, to get me out of it.
So I wonder, what makes you become 'Mean Mommy'? Or maybe I should ask, do you become 'Mean Mommy'? What's your trigger & have you ever been able to find a way to prevent the transformation?