I really need to start thinking twice about what I let my kids watch.
Because of P's job pop music is a huge part of our everyday life. My girls know Katy, Britney, Nicki & Gaga & for the most part it hasn't been a problem. (except that one time when Sam started singing Peacock in Target, that was awkward. In my defense she truly believes the song is about a pretty bird) Often on Saturday mornings we turn the TV on to VH-1 & watch music videos while daddy makes chocolate chip pancakes. It's our thing & honestly I like that they know more music than just the Ultimate Disney Princess Collection.
But then Miley decided to twirk it…
That scene, where the girl cuts the fake fingers off & gooey pink blood comes out, FREAKED THEM OUT. P & I heard them both gasp and tried to explain that it was fake but you could tell the damage was done. Hanna Montana officially traumatized my kids…and it was all my fault.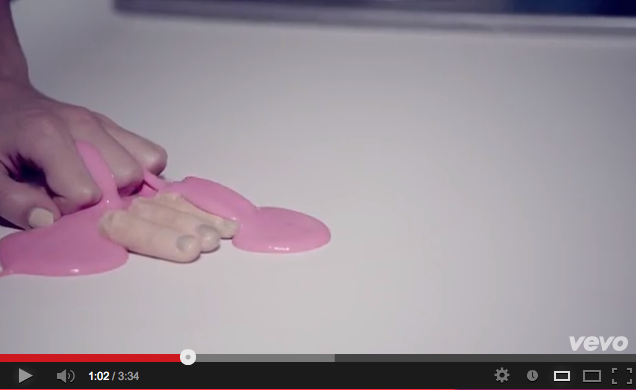 For a good week I've been patiently explaining to the girls, mostly Sophie, that the fingers aren't real. Blood is not pink nor slimy.
I told them that the girls were just being silly but that look of perplexed fear was still in their eyes. So yesterday when I was at Michael's & found pink slime in the dollar bin I knew exactly what to do…
A reenactment.
The questions about 'what happened to the girl's fingers?!?' have finally stopped so I do believe we have in fact avoided life long therapy but in all seriousness, I think we've gotten to the point where I really do have to watch what the girls, especially Sam, hear & watch.
Honestly, I have no clue how to handle the fact that they can't listen to all of daddy's show. They get a kick out of hearing Daddy on our way to school, how do I explain to them that when 'war of the roses' comes on we have to change the station? How do I explain to Sam that she's a part of Daddy's show when she does her Sam Skams but she can't listen all the time?
I have this habit/tradition that at 5p I turn on the evening news & start cooking dinner. It's my chance to connect with what's been happening in grown-up land & I enjoy it, until the other day when they were talking about the Boston Bomber & Sam said it scared her and could I please not have the news on while she was around. UGH! *hand on heart* My poor baby. That seems like a no brainer though, scary news, not appropriate for young ears but what about the things that are a little more vague like music videos or P's show. Just when I thought I was becoming a seasoned parent something like this happens & I realize I still have absolutely no clue what I'm doing.