I can hardly believe it, I actually have a reason to get dressed up this week! And not just dressed up, I have a reason to go all out TRENDY!
There's a hole in my heart where fashion used to be. Driving a munchkin to school & doing the Target run once a week as your big outings will suck the life out of your closet QUICK. But not this week my friend. This Thursday I'm not mom, I'm a rockstar. At least until the babysitter leaves. One of the benefits of having a husband who works in radio is every once in awhile we get to go to something swanky & cool. This Thursday my hub's morning show is putting on a Thanksgiving concert & I'm super psyched!! But not for the concert, that'll be good & all, but I'm so excited for my outfit!!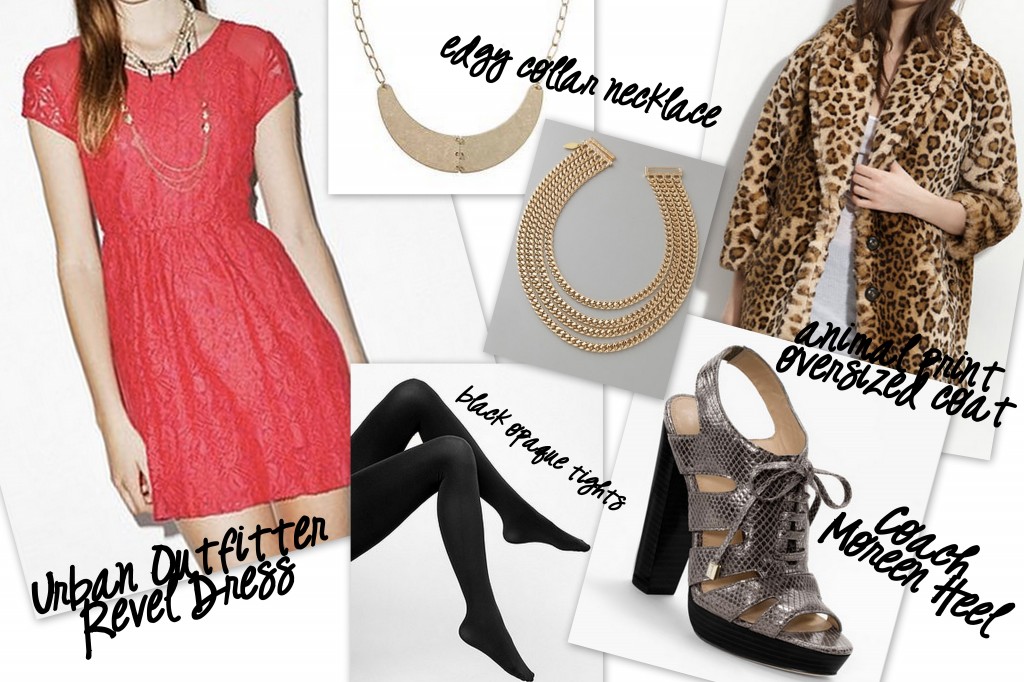 Coincidence & Chance Revel Dress $79, Half-Moon Necklace $24, Inesa Necklace $192, Oversize Chubby Coat $69 (similar to my coat & 1/2 off!), Xhilaration tights $5, Moreen Heels $198 ($99 in Coach store!)
I found the dress at Urban Outfitter's but chose it in Cobalt Blue. In the same mall trip I saw the amazing sexy Moreen booties in the Coach Store window. I was sure they were way out of my budget but some fashion angel must have took pity on me & beckoned me to turn the shoe over. Majorly on sale!! From $198 down to $99! I can totally splurge on that. Especially for such a hot shoe. (the shoe isn't on Coach's website, I found mine last week at the Coach store in International Plaza in Tampa) I'm going to hem the dress a bit so it's a true mini & wear opaque black tights underneath since it is, you know, 40 something degrees out. Speaking of, I have a Miss Sixty leopard fur coat (from the kid's dept, size 16, shhhhh!) that I snagged at Nordstrom Rack 5 years ago that will go perfectly. The only thing I need still is a nice chunky, collar style necklace. I think something thick & edgy to balance out the sweetness of the lace would be perfect. Hopefully I can raid Forever 21 sometime this week.
Do you ever get dressed up? I'm dying to know, what the last outfit you wore that made you feel like superstar??