Sometimes I cook a meal that is insanely good. Often it has zero to do with my cooking skills. It's more that somehow the culinary stars align…I don't know if it's the quality of the recipe, the nature of the produce or perhaps that day I didn't get interrupted every two seconds by somebody who just had to have a cup of milk that very second because they were SOO THIRRRRSSSTTTYYYYY!
This was one of those meals. And you know what pisses me off? The photo sucks.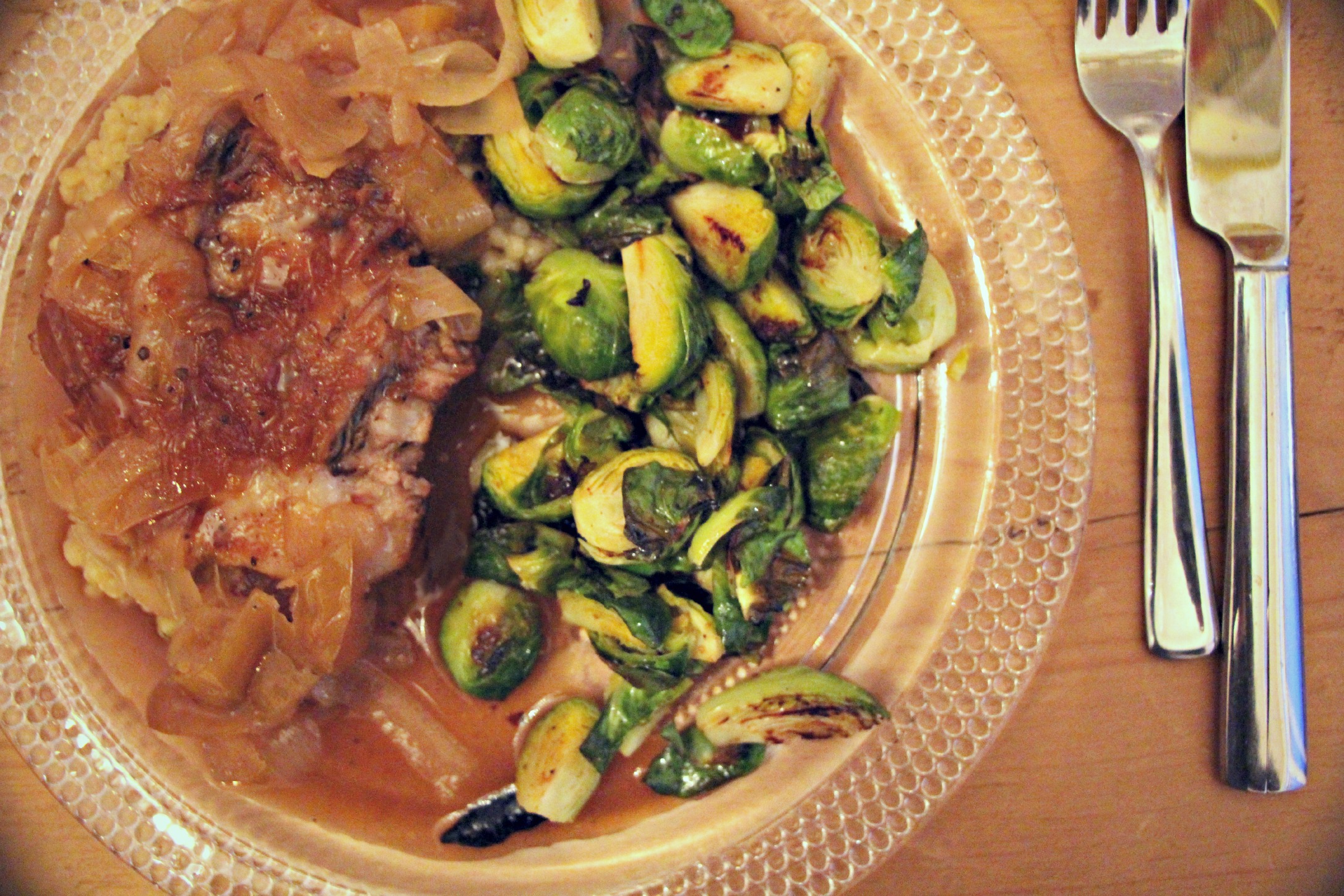 I wish you could see how sweet & savory the sauce was that I made from the combination of apple juice & pan juices from the slow cooked pork. Or maybe it was the savory & slightly charred taste of the caramelized onions mixed in with the cooked apples. In short, it was divine. But for some reason the picture looks like a plop of slop.
So you'll just have to trust me, make this sometime this weekend and your family will think you are a superstar.
The recipe is from Pioneer Woman. Has this woman ever made anything I haven't adored? However here are a few notes after trying it out myself. 1- give yourself 3 hours, if the meat isn't falling apart with a butter knife it hasn't been cookin' long enough. 2- be patient when boiling down the juices to make the sauce at the end, it's worth it. I had a ton of juice left, this could be because I was chatting with a friend while cooking & failed to measure anything, and it felt like it was forever before it boiled down to a beautiful, silky pan sauce. I almost said screw it, the pork already tastes amazing on it's own, but trust me my friend, that is the GOOD STUFF. 3- make enough for leftovers, it's even better the second day. 4- I used half apple juice & half apple cranberry juice, it might have made the end result slightly less sweet. Maybe.
She makes hers with a fancy wild rice, I'm sure that's wonderful but I just had a box of pearled couscous on hand, rice balls as my girls call them, and that was delicious. I also served mine with brussel sprouts that were quartered, seasoned with salt, pepper & EVOO & then roasted in a 400 degree oven for about 15-20 minutes.
I would imagine this is the perfect rainy day, comfort food, Sunday night dinner kind of meal & I will certainly be making it for all of the aforementioned occasions.
*Want more recipes ideas? Get my full list here!