Do you ever just try and throw ingredients together & "make up" dinner? It's one of my favorite things to do but I find the results are either 'rock n roll' or major 'crash n burn'. My family is a trooper though & they eat it regardless. Although this could be because I give them no choice.
Regardless this time it was YUMMY! The ingredient combination isn't exactly rocket science but whatever, I'm still proud of myself.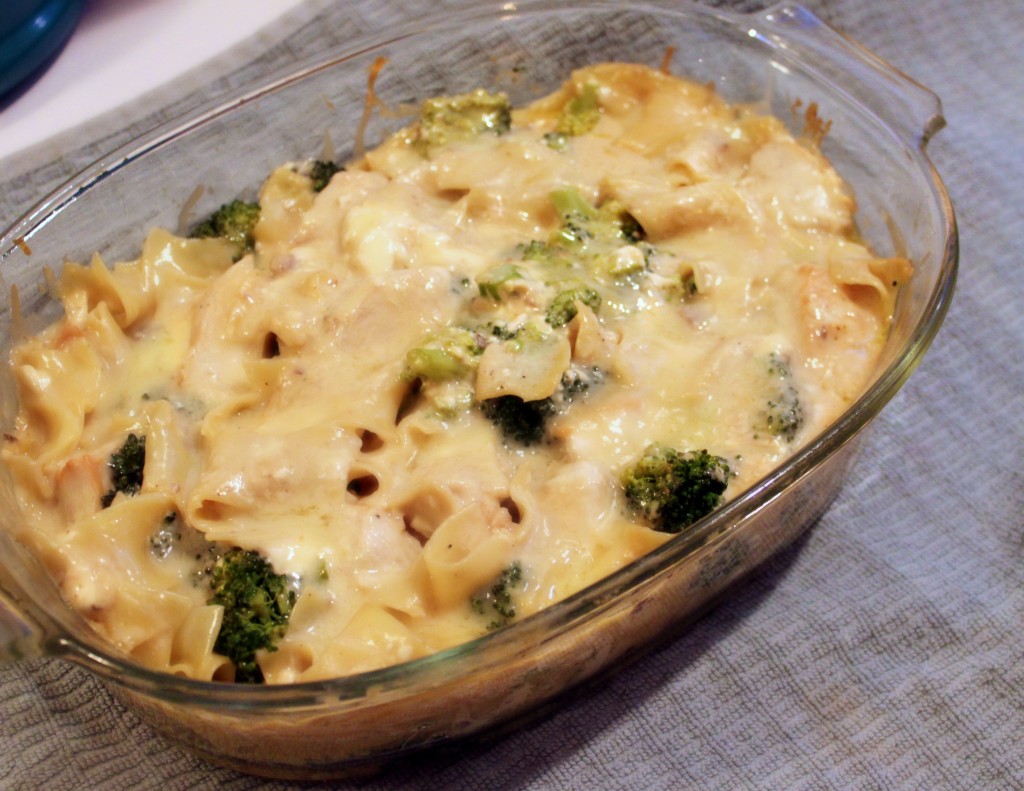 Warm Your Heart Creamy Chicken Broccoli Bake
3 chicken breasts cut into 2″ cubes
8 oz light cream cheese, cubed
1 can cream of mushroom soup (I used the fat-free)
shredded parmesan cheese
1 head of broccoli cut into florets
egg noodles (substitute no yolks for a light option)
milk (as needed to thin sauce)
Preheat oven to 350.
Set a pot of water to boil for noodles.
Trim broccoli into florets & place them in a microwave safe glass dish, add 1 tbs water & cover with lid. Microwave for 3 minutes. Drain, season lightly with salt & pepper, set aside.
In a large skillet drizzle a tablespoon or two of extra virgin olive oil over medium high heat. Season your chicken cubes with salt, pepper & garlic powder. Cook chicken cubes in skillet for 2 minutes each side or until golden brown. Work in batches if you need to, adding oil as needed. Don't crowd the chicken or it won't brown as nicely. It's ok if the chicken isn't cooked all the way through, it'll finish in the oven. Transfer chicken to a plate & turn skillet down to low.
Add noodles to pot, cook according to package directions.
While noodles are cooking add cream of mushroom soup & cream cheese to your skillet. Stir over low heat scraping up all those yummy brown bits from the chicken in the process. Add milk as needed to thin the sauce.
Drain cooked noodles & add noodles, broccoli, chicken & sauce to a baking dish. Top with shredded Parmesan cheese & bake for 15 minutes (cover with foil if noodles or cheese start to burn) or until chicken is cooked through.
Serve right away & receive massive amounts of praise humbly yet deservedly