Let me just put it out there for you.
Before I had kids I got bikini waxes, brazilians if I was feeling crazy. This was something I did before I was married & I certainly saw no reason not to continue after. Something happened after I had kids though, for some reason it just stopped. In fact I distinctly remember my last wax, I was 9 months pregnant with Samantha & got one because I was super paranoid about being spread eagle in front of who knows how many hospital staff members. It was right up there with the fear of pooping on the table.
After that the thought would cross my mind from time to time to make an appointment, especially during the summer, but it never quite happened. Sure I kept things tidy, it's never gotten quite as out of control as Miranda in Mexico with the girls…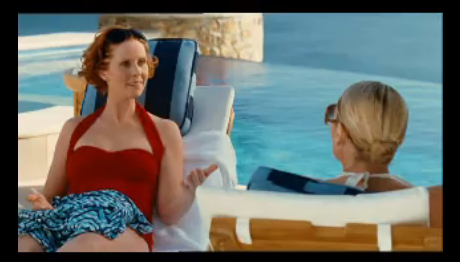 Miranda: What? I forgot to wax!
Samantha: Since when? 1998?
But it certainly isn't a priority & it got me thinking, why not?
I'm sure part of it is being married & we inevitably don't always make as much of an effort to be sexy. Then there's the whole situation of being so busy with kids that the last thing I have time for is chach maintenence but if I'm honest with myself even if I had the time would I still get brazilian waxes? (a straight bikini wax is pretty tame, I'm talking full hairless chihuahua here) My answer is "probably not." It just doesn't feel like me anymore. There's something weird in my head about taking the kids to the playground knowing I look like "Debbie does Dallas" under my sweatpants.
So the question becomes is it innappropriate to do something as avertly sexual as a brazilian wax after you have kids? I'm assuming it's only for your significant other to see so why should that be a problem? Perhaps instead of it actually being uncomfortable because that's no longer who I am it's actually that I've forgotten that side of me. Between the crayons, nursing bras, butt wiping & spit up stains have I become so disattached from my inner sex goddess that being sexual actually feels wrong?
I have to wonder, is there a new line when it comes to our sexuality after we have kids or out of evolving to our new lives did we somehow drop off parts of past ones?
Be honest with me, even if it's anonymous. Do you still wax? Brazilian? Does your sex kitten still come out from time to time or has she been spayed, declawed & put on the euthanasia waiting list?