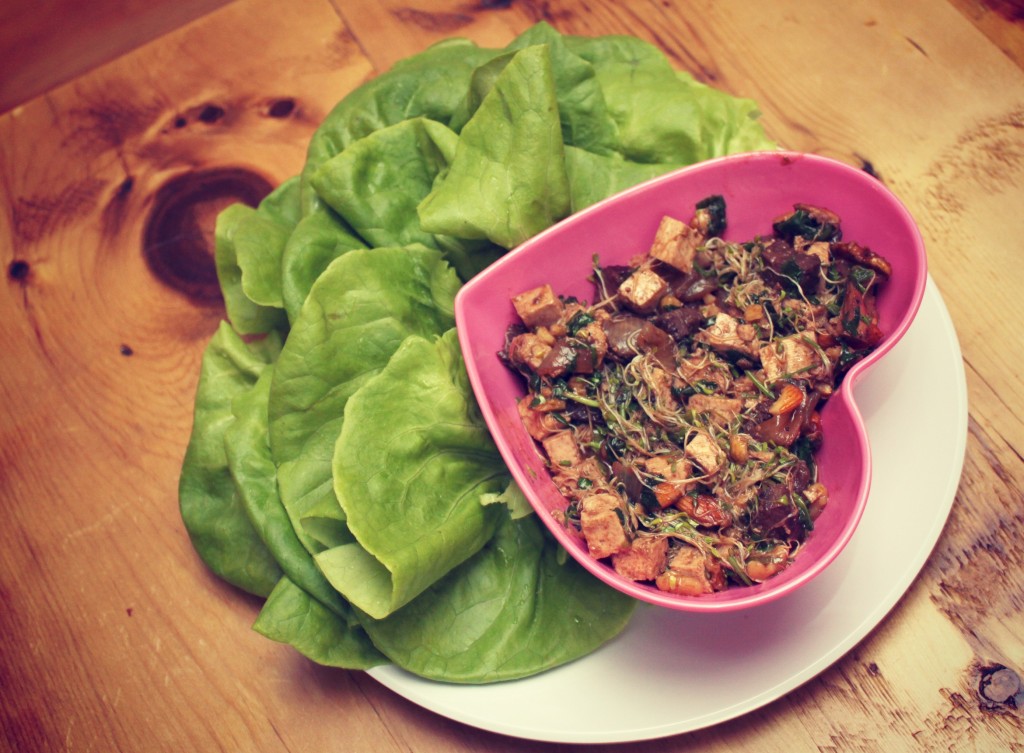 (heart bowl from Valentine's collection at Target)
P loves lettuce wraps.
The other night he had a really rough day & had to work late, I was stuck with reconfiguring leftovers anyway so I found a way to make lettuce wraps & texted him a pic showing him what was waiting for him.
I'm ultra wife of the year, right? Here's a little secret…I've been craving lettuce wraps since I picked up some peanut sauce at the grocery store last week. But as far as you know it was a completely selfless gesture, got it?
Lettuce Wraps of Love
1 package of bibb lettuce, leaves cut off, rinsed & patted dry
Peanut Sauce- asian cuisine aisle, use a good drizzle, about 3 tbs
Chili Garlic Sauce- also in asian cuisine aisle, I used about 2 tbs so give it some kick
Juice from 1 lime
Soy Sauce- drizzle if needed but taste first because this dish easily becomes overly salty
Meat du joir- I had some left over fajita steak so I chopped that up & combined it with cubes of extra firm tofu
Scallion- 1tbs, chopped
Cilantro- t tbs, chopped
Garlic- 1 clove, minced
Bean Sprouts (optional)
In a skillet, over medium heat add your garlic to about 1 tbs of olive oil. After it begins to soften (around 2 minutes) add your meat, cilantro, scallions & sauces. Stir until heated through & glaze begins to form. Finish with a squeeze of fresh lime. Serve roll-it-yourself style with bean sprouts on top for an extra crunch. Use extra peanut sauce drizzled on top of individual wraps if desired.