TheDecor: More than just Ms Perry the party was specifically inspired by the California Gurls video. I was a little worried about how to pull that off but it turns out there's tons of great ideas out there for a Candyland themed party & most of them worked perfectly! The giant lollipops were probably my favorite though, and so easy! They're from this pin & the basic idea is you blow up a balloon, tape the knotted part to a dowel (mine were rolled in glittered duct tape) & then wrap up the tops loosely in cellophane & tie shut with a ribbon. So clever, right?? I stuck mine in a drink tub filled with floral foam to keep them in place. (I bunched up some extra cellophane & stuck it in the tub to cover the floral foam too)
I'm not sure if you got a good look of any of the peppermint garland but those were pretty darn cute too. They're from this pin & are basically two colored disposable plates taped together & then wrapped in cellophane to give them the look of a giant wrapped candy. If you make a handful of them & staple the top corners together you've got yourself a mighty cute garland. That was my original intention but I forgot my staple gun & had to settle with using them to line the walkway into the party. Oh well, cute nonetheless. I also used this Kurt Adler 8′ Plastic Large Candy Swirl Garland
along with a 'Happy Birthday' garland over the entrance to the pavilion.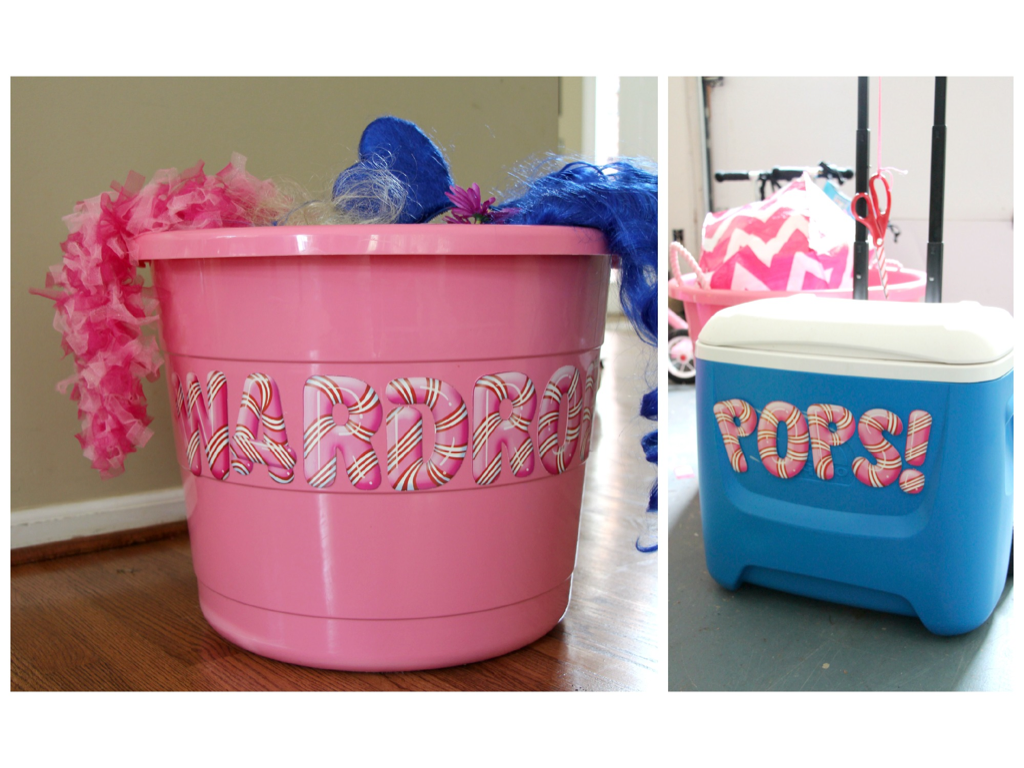 And of course you can't have a Candyland inspired party without an obscene amount of candy. I sprinkled wrapped candies all over each table & filled small tubs (also lined with floral foam) with these Red Swirl Pops
and Blue Swirl Pops
. Those actually made for some pretty darn cute pictures. The tables were first covered in splatter painted looking table skirts from Target & then to keep the wind from blowing them off I used these Red & White Striped Table Skirts that fit in with the whole peppermint look. Speaking of Target I majorly lucked out with those "VIP Backstage Access Dance Party" cards, they were originally thank you notes but I just glued a piece of glitter cardstock onto the backs & then attached them to a string with a lanyard holder. The kids received them on their way in as their 'backstage pass'. To me this was brilliant, I was so proud of myself, but it was completely lost on the 5 year olds. Not only can they not read but they have no idea what the heck 'all access' is or why it's cool. I mean, isn't everyone invited?
Sam had fun glueing the Candy Land Reusable Letters
onto a pink foamboard to make the entrance sign, the pack came with plenty so I also used them to label the popsicles cooler (with scissors attached!) & the all important 'wardrobe' area.
This really MADE the party. I swear the moment those kids put a wig on this super sassy alter ego came out, they were going BUH-NANAS. I actually turned to one of the adults at one point & said this is even more entertaining than serving alcohol! Our cheeks seriously hurt from laughing so hard. Who knew we all had these inner dance divas that just needed a little colored wig to come out!
Katy Perry Child's Blue Wig
, Katy Perry Child's Purple Wig
, Monster High Long Purple Child's Wig
,Monster High Lagoona Blue Girls Wig
, Ariel Child Wig
TheCake: Oh the cake, what a homerun that was. I immediately knew Oby from Bim's Flavors could pull it off after her success with Sam's Sleeping Beauty cake last year. Not only do they look perfect but the pink velvet cake inside is mouth watering good. Mmm, I wonder if there are any more leftovers in the fridge…. I sent Oby this pic of Katy Perry's California Gurls dress for inspiration along with this Hairtastic Salon Barbie Doll:Purple Hair
to be Ms Perry. IT.WAS.AWESOME.
TheDress: If you follow me on Instragram then you know I've been hemming & hawing about how to change this Old Navy popscicle bathingsuit into a California Gurls dress. If it was just a costume then I could go crazy & probably pull off something somewhat similar but this, this had to be waterproof. That certainly threw things a bit. In the end I hand sewed the ice cream out of shimmery lycra (swimsuit fabric) & also embellished the bow with sequins. Since Sam's a newbie swimmer it was important that the suit still give her ease of motion & be fuss free. However to make up for the simplicity I sewed a circle skirt using this technique & 4 layers of awesome pink tulle that was pre-embellished with little red sequins. (JoAnn's) I also hand made the peppermint swirls & blue bow that were attached in the front & back. She wore it to camp today for water play because she couldn't wait to wear it again. I LOVE that she LOVES it, it makes it totally worth every evening I stabbed myself with a needle from sewing on sequins half asleep.
TheFun: Besides the wild dress up/dance party session the kids mostly swam in the pool. (no wigs allowed!) However they also had a good time with these Disco Ball Necklace Party Favors
, the Inflatable Rock Star Guitars
, some Rock Star Diva Jewel Tattoos
& blow up microphones from Party City. At the end of the party I piled them all up on a table & told the kids they could take home as many as they wanted! I'm quite certain the other parents luvvved me for that, everyone loves when they're kid comes home from a birthday party with a bazillion cheap plastic knick knacks that they'll never use again. (;
All in all this is probably my favorite party yet, the kids had so much fun, we had a blast watching them & OHMYGOSH it was nice not to have it at my house!! I did not realize how much I'd love not having to clean up for people coming over & then not have to clean up after they leave. We just got to go home & let the girls duke it out over whether or not Sam had to share any of her new presents with Sophie. Tell me if you've got that one figured out, k?
Next up…Sophie Monster's MESSY PARTY!!! Woohoo! Only 3 weeks to go, time to restock my coffee supply.
Other Little Pink Monster Parties: Sleeping Beauty Royal Beauty Parlor Birthday Party, Little Mermaid Birthday Party, Cupcake Birthday Party,
(Yay! This post was given an award by partypail.com!)