You know how I've been gradually lightening my hair so I could be Jlo blonde for summer?
While I'm still completely in love with the color the damage is starting to show. Even by lightening gradually the bleach is still brutal. Although for some reason my damaged hair holds a curl better, isn't that weird?
One of the things I love about my hairdresser Andrea is that she never tries to sell me on expensive salon hair products that I don't need. She's always telling me not to waste my money. That's why when she recommended I try Pureology Essential Repair Conditioner
for my crunchy strands I didn't even hesitate. I've followed her directions and used a nickel sized amount on my ends & around my bangs where the hair is the frizziest. I left the conditioner in throughout my shower while I shaved my legs, washed my face & drew pictures of penises on the steamy glass with my fingers. (Totally kidding! They were buttcheeks.)
You know what, she was absolutely right. I dried my hair like usual & could instantly tell a difference, so much softer my friends. SO much softer.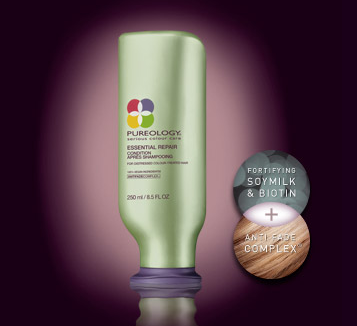 This stuff is heavy duty so you can't really use it more than once a week or you'll end up looking limp. You'll be tempted to try to get it to work it's magic but resist, it's powers can only be used on a limited basis.
I bought mine at Red Door but I just found it here on Amazon for only $18, that's almost half off!
*Pureology has no idea who I am and neither them nor Red Door have offered me any money or products for this review. Although I certainly wish they would! It is strictly my honest opinion.