Dear Suspected Evil Crafter,
In the last 48 hours I've finally figured out what's causing all of these problems with my health!
There's really no other way of explaining the last week other than this & I just want to know, why didn't I think of it sooner?!
There is a crafter out there, I know not whether they be male or female, young or old, but what I am certain of is that at some point in my life I have offended them. Greatly. To the point where they would make this!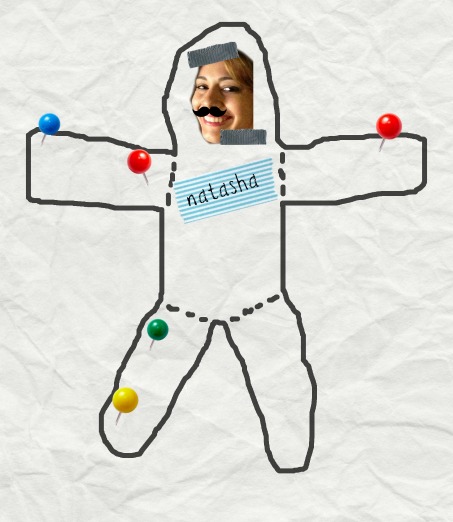 rendition based on professional police sketch artist techniques
I know, I know, it's a bit hard to believe but clearly someone has crafted a voodoo doll of me & I must say, I do NOT appreciate it. Especially the mustache, that's a sensitive subject people, I can't help my hispanic genes.
Ok, so that was my attempt to lighten the mood considering last week's post was a bit, shall we say, a downer.
Since then though there's been more, because there always is, & as usual, not a lot more answers.
I would have to describe this past week as awesome. Awesomely awful & awesomely amazing.
I don't want to go into too much of the re-hashing of medical details because frankly, I don't feel like it, but here's the basics.
At some point early last week I started noticing my lips & tongue were going numb. Not like can't feel it numb, more pins & needles numb. I made a mental note & then blew it off because it tended to come & go. Within a few days it had spread to the tips of my 3 last fingers on my left hand & then a day later down my left leg. Ok, got a little freaked at that point, I won't lie. My dr sent me to the ER where they admitted me & after a bazillion MRI's, ultrasounds, catscans & lots of peeing in a cup later I came home knowing that I had NOT had a stroke, did NOT have a brain tumor & to great relief do NOT have MS.
The neurologist said that this was probably caused by a series of events that can be tracked back to my "history of inflammatory issues". He also mentioned my B12 was low & that alone can cause some pretty severe neurological chaos.
Here's what my gut tells me…and I laugh that I just said "my gut tells me" because I've come to this conclusion by very definitive statements my gut has been telling me for the last 5 weeks. It ain't happy. It's very "active". Are you getting my drift or should I be blunt?
I'M CRAPPING MY BRAINS OUT PEOPLE. OK! ARE YOU HAPPY??
Now the world knows I have diarrhea. Awesome.
So at this point it's not too hard to connect the dots…when you have a case of the poopsies you're body is not able to absorb the nutrients you need & you can become vitamin deficient. Apparently B12 is a vitamin that you do not want to be lacking. She's gets a bit dramatic when she's low.
So that's the awesomely SUCKS part. Not so much the hospital stay but the chaos that ensues because of it. As soon as they said they were admitting me P & I knew it was gonna be rough. My husband goes to work at 4am, you try finding a babysitter at that hour. Luckily Kim came to our rescue again & between her & Peter they were able to take over my duties until I came home a day and a half later. I know it wasn't easy for them though, they're major troopers & I adore them for it.
That's where the awesomely amazing comes in. I am BLOWN AWAY by the love & support that's been shown to me this past week. When I came home from the hospital I was so low & depressed. Another grueling hospital stay & nowhere further. I honestly laid in bed & planned that as soon as I had the strength I was going to cover up the windows on the doors to my craft room so I no longer had to be reminded of the life I used to have. (I know Susan, I'm going to call the therapist, PROMISE!) Heavy, I know, but wait, even the most down moment can change on a dime. That night my friend Corinne showed up on our doorstep with a hot, delicious dinner. It was EXACTLY what we needed. We were so overtaken by the last 48 hours that we hadn't even contemplated what we were going to eat for dinner when almost magically it was right there. The same thing happened the next day with my dear friend Michelle & then more from Julie, Stacy & Megan….turns out my dear, sweet friend Kelly had put together a sign up sheet for all of my friends to plan on bringing us dinner for the next week. BLOWN AWAY. Several of these women are my best friends but most of them are friends from the school, ladies I love to chat with but not ones I'd expect to take care of my family when I couldn't. But there they were. And I didn't even have to ask.
That is love. And yes, I have had some downright shitty days lately but who can sit & cry when they're being lifted up by such unconditional support?
I don't know what's going to happen next. I have two MRI's this week & multiple doctor's appointments next week that could very well tell us diddly squat but I do know something. When I feel overwhelmed or saddened by how my life has changed lately I can think about the love I've been shown. Friends I didn't know I had who were more than willing to help, support from a husband who's already completely overextended, (do you know that man did every single piece of dirty laundry in this house this weekend? And there was A LOT) & the oh so amazing, candid & beautiful comments & emails I've received from you. I hope you know I read every single one, often multiple times, & they make me smile every single time.
I haven't quite had that epiphany moment where I can say, "Ohhh, ok God, I get it now, THIS is why this has happened. THIS is what I needed to learn! Thankyou!" but I can see signs that it's brewing & for that I say, Thank you God, I look forward to how you're bending & moulding me for your plan & thankyou to EVERYONE who has shown me love through all of this, YOU are the reason I'm here typing & not rocking back & forth, wearing last week's underwear with mascara down my face & old episodes of Sex & the City running on repeat on the TV. I'm still moving, albeit one step at a time, and it's 100% because of you. MUAH!